Field Study
Full Time Field Study
The Community Studies Program takes pride in the experiential education component of our major, through which you can both contribute to and learn from organizations that are actively working for social change in a variety of fields.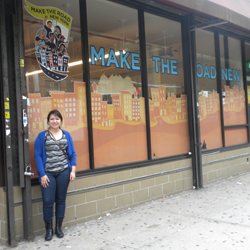 The two-quarter full-time field study is required of all Community Studies majors and is taken over the summer and fall quarters after a student's third year. Your field study must be related to the topical area you choose. Full time field studies may be arranged with organizations in Santa Cruz or elsewhere in the United States, choosing from pre-selected geographic locations where social justice issues are particularly interesting. The Program has a field study resource office to help you select and develop their full-time field study, located in Oakes College 214.
All field placements must be approved by your advisor no later than the end of winter quarter.  You cannot enroll in CMMU 102, Preparation for Field Study, until the Goals & Objectives Contract has been completed and signed by you, your field placement supervisor, and the Community Studies Program Director. If you are eligible for Financial Aid, please contact your Financial Aid advisor as soon as possible to learn what may be available for summer quarter.
2018 Field Study sites are listed for viewing here.
Possible locations are, but are not limited to:
      San Francisco
      Detroit
      Portland
      Seattle
      Los Angeles
      Memphis
      New Orleans
      Chicago
      Guatemala
      New York City
One Student's Field Study Experience
Chiara Cabiglio worked with the Darfur Peace and Development Organization in Washington, D.C.; she writes:
Darfur Peace and Development Organization (DPDO) is a non-profit that provides humanitarian and development assistance to the victims of genocide in Darfur, Sudan. The organization is recreating the co-dependent ecology that once existed in Darfur by educating the youth, empowering and protecting the women, and engaging in grassroots peace-building.

Since only three full-time employees (who need all the help they can receive) work in DPDO's Washington D.C. office, I virtually did everything and anything. Some of these tasks included: searching for upcoming Senate/House of Representatives hearings, outreach and social networking through Facebook, Twitter, etc., writing and sending press releases, writing articles and posting them with pictures to our website, contacting Congressmen, celebrities, organizations and newspapers, assisting with research for the completion of grant proposals, searching for grant making foundations, emailing email inquiries, sending proposals, and much, much more. Most notably, I was given permission to create and organize an event entirely on my own, which I called "Dara for Unity and Hope."

During my time in D.C. I also attended the Pledge 2 Protect conference and marched on Capitol Hill with more than 1,000 students, calling on Congress to prevent genocide and mass atrocities in Darfur, southern Sudan, the Congo, Burma, and elsewhere.

Working with DPDO exceeded my expectations because I learned how important humanitarian work is in addition to advocacy. I also was able to work alongside the Founder and President of DPDO, Suliman Giddo, who is from Darfur. Hearing his stories and seeing how hard he works every single day for his people truly was inspiring. For more information, please visit http://www.darfurpeace.org.