Undergraduate Program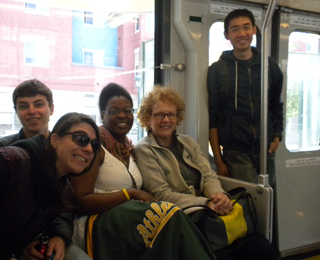 Summary of Major Course Requirements
CMMU 10: Introduction to Community Activism (fall)
CMMU 101: Communities, Social Movements, and The Third Sector (winter) 
CMMU 102: Preparation for Field Study (spring)
CMMU 198: Independent Field Study (summer/fall)
CMMU 194: Analysis of Field Materials (winter)
Three Upper Division Topical Courses (fall/winter/spring)  
Satisfactory completion of all major course requirements is defined by a grade of C or higher.  All courses in the major must be taken for a letter grade.  The three topical courses must be taken prior to field study and students must declare before taking CMMU 102.
CMMU 10, Introduction to Community Activism - This course introduces students to different approaches to community activism including charity, volunteering, labor and community organizing, non-violent resistance, non-profit sector involvement, and media advocacy.
CMMU 101, Communities, Social Movements and the Third Sector – This course critically engages with concepts central to the major including constructions of community in social change efforts and the institutionalization of social movements in third sector organizations. It is designed to deepen your understanding of the opportunities and obstacles embedded in various avenues of social action.
CMMU 102, Preparation for Field Study – This course examines participatory and other social-research methods including participant observation, conducting interviews, writing ethnographic field notes, and collecting descriptive data. Students receive practical experience with developing research questions, methods, and writing field notes. The course also addresses ethical and logistical issues of community-based research. The final project is a literature review completed in partial satisfaction of the disciplinary communication (DC) general education requirement. 
CMMU 198, Full-Time Field Study - During the full-time, six-month field study, students are enrolled at UCSC and receive full-time university credit. Students are required to submit field notes and several analytical essays during the field study. Students are guided by a campus faculty adviser and on-site organization supervisor.
CMMU 194, Analysis of Field Materials – This course is designed for students returning from their full-time field study and has two related goals: (1) to help students, both individually and collectively, analyze and gain perspective on their field experiences; and (2) to facilitate completion of the senior capstone requirement. Students work with their field material to develop findings and arguments and connect those to relevant theoretical literature(s). Then, in a series of discussion forums, they use their analyses to confront those issues that most forcefully challenge social justice work in the contemporary moment. The written work of 194 completes the DC requirement.
CMMU 195 Senior Thesis – continuation of thesis or project begun in 194. Required if students are completing a senior thesis as their capstone. Not required if students are completing a senior essay as the capstone.
Topical Requirements - In addition to the core curriculum, students must successfully complete at least three topical courses to develop expertise in their designated emphasis (health justice and/or economic justice).  The topical courses must be completed prior to field study. 
See
Also