Senior Capstone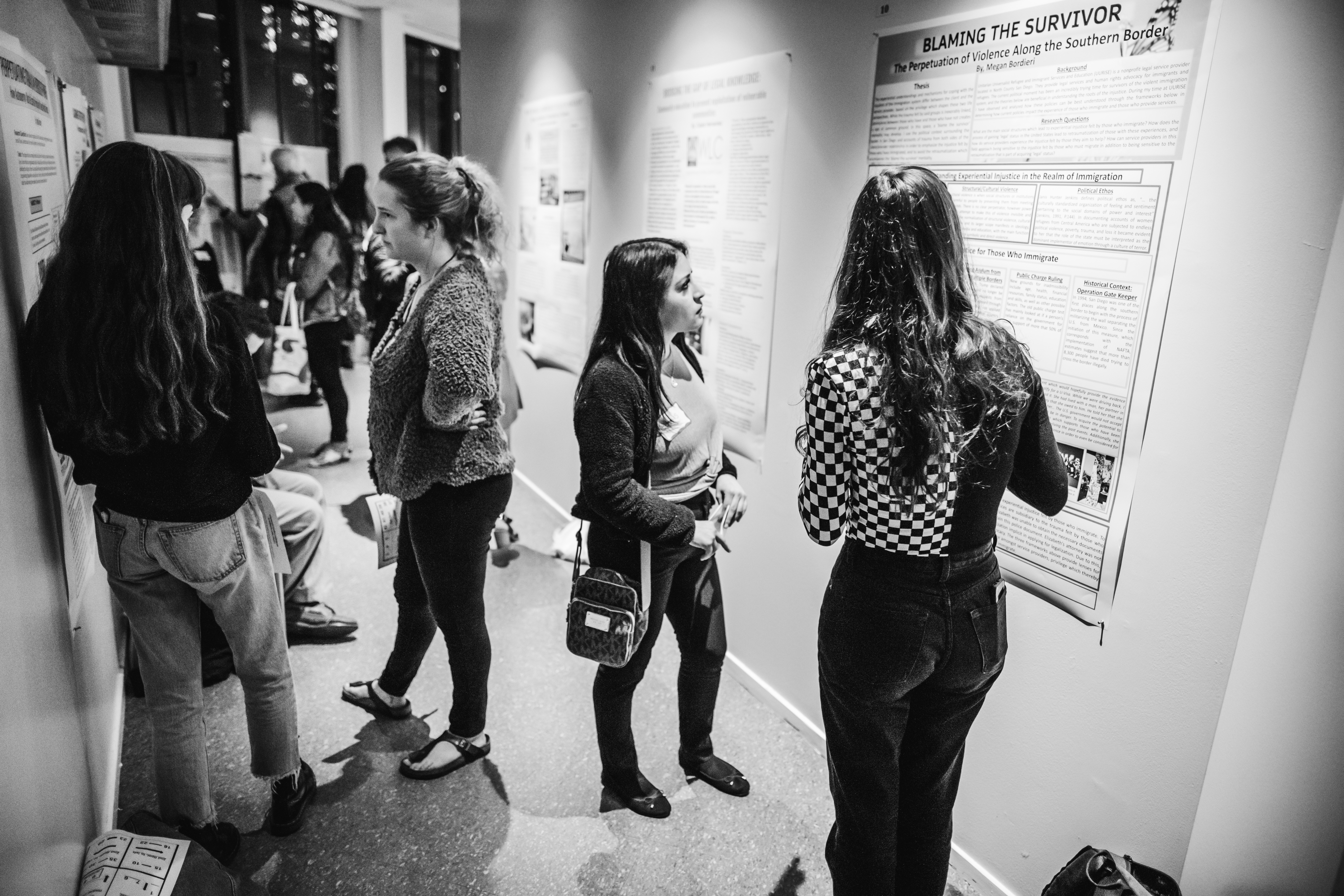 The Community Studies Senior Capstone is fulfilled once students have completed their six-month, full-time field study. This is the final curricular requirement for the B.A. in Community Studies, and completed in CMMU 107. 
CMMU 107 Analysis of Field Materials (required): Students enroll in the CMMU 107 seminar the quarter after completing their six-month, full-time field study (always Winter Quarter). In this course, devoted to the systematic analysis of their field materials, students support each other in the development of their analyses and write their senior essays in fulfillment of their capstone project. 

In addition to the senior essay, students in CMMU 107 participate in the Community Studies Annual Field Study Poster Session, the cornerstone live event bringing together the entire UCSC campus community. In the Poster Session, CMMU 107 students share their research with their peers; faculty, staff, and administrators from Community Studies, affiliate departments and programs, and the greater UCSC community; and the public at large. This event has historically been held in the halls of the Oakes College Academic Building. In 2021, Community Studies hosted its first live VIRTUAL Poster Session.
CMMU 199 Tutorial (optional): Students who wish to further develop their completed senior essays into a more robust senior thesis manuscript may choose to enroll in CMMU 199 the quarter after CMMU 107 (always Spring Quarter) to complete that work under the supervision of a faculty mentor. Students must communicate their interest in this opportunity to the Program Advisor and Program Director one year in advance - prior to the start of their field study. 

Student-Led Seminars (SDS) in Community Studies: Students with consistently outstanding academic performance interested in leading a lower-division student seminar based on their research expertise under the supervision of a faculty mentor in the Spring Quarter after their return from field study may choose to submit a course proposal to the Program for review. Submission of a course proposal does not guarantee approval. Students should discuss this highly selective opportunity with the Program Advisor. Students must submit course proposals to the Program Advisor and Program Director by the start of the Fall Quarter prior to the completion of the senior capstone - six months in advance of the intended quarter for the SDS.